Client: Cles Municipality
Sector: Geoengineering
Type of intervention: Public Infrastructures
Issue:
On request of Cles Municipality, Geoengineering sector delt with assistance regarding Cles primary school relocation. This intervention involved the school complex demolition, aiming to build a new car park and recovery a public green area.
This intervention has also foreseen the re-use of material derived from the school demolition (approx. 1400 m3) for the apron foundation plane construction, after stabilising the material with lime.
What we proposed:
During the Cles primary school demolition we managed to operate in order to ensure respect for the environment. Produced waste recovery allowed us to save raw materials and avoid landfilling with demolition material; this led to improve the preservation of homeland.
Our team then choose to reuse on site the demolition material; in this way it's been possible to restrict heavy vehicles traffic, required for the material transport towards a treatment plant outside the site.
How we act:
Material stabilisation and regeneration have assumed a deep knowledge of material technical characteristics, in order to process inert and binders' dosage. Therefore, before the executive planning, our team performed a series of construction and demolition material samples. These samples were necessary to evaluate composition and geotechnical characteristics of the demolition material.
Our technicians also performed a heap sampling aiming to compose monolithic test-pieces. Those samples were analysed in order to approve the use of material mixed with lime, according to the local relevant legislation.
Through the execution of compression tests, the demolition material has received the CE mark. Furthermore, the material passed the leaching test and the verification of mechanical properties regarding recycled aggregate stabilized with lime.
Particularly, following the mix design study carried out in the laboratory, our team choose a lime dose of 2 % in order to mix it with construction and demolition material.
Laboratory tests allowed us to evaluate mechanical performances of demolition material mixed with lime, with the following results:
REQUIREMENT
TEST METHOD
SYMBOL
UM
VALUE ACHIEVED
THRESHOLD VALUE
Compressive strenght (7 days)
UNI EN 13286-41
Rc
Mpa
1.66
≥0.70
Compressive strenght (28 days)
2.27
≥2.00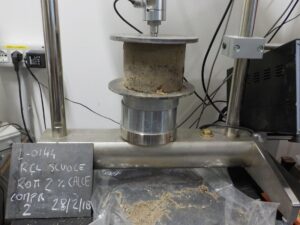 Laboratory tests shows that recycled demolition material stabilised with lime (2% lime) entails geotechnical improvement and soluble substances release inhibition. This follows the environmental constraints and the territory protection.
This present recycled material is then suitable for civil engineering works construction, particularly, a new public car park.
Condividi questo Articolo